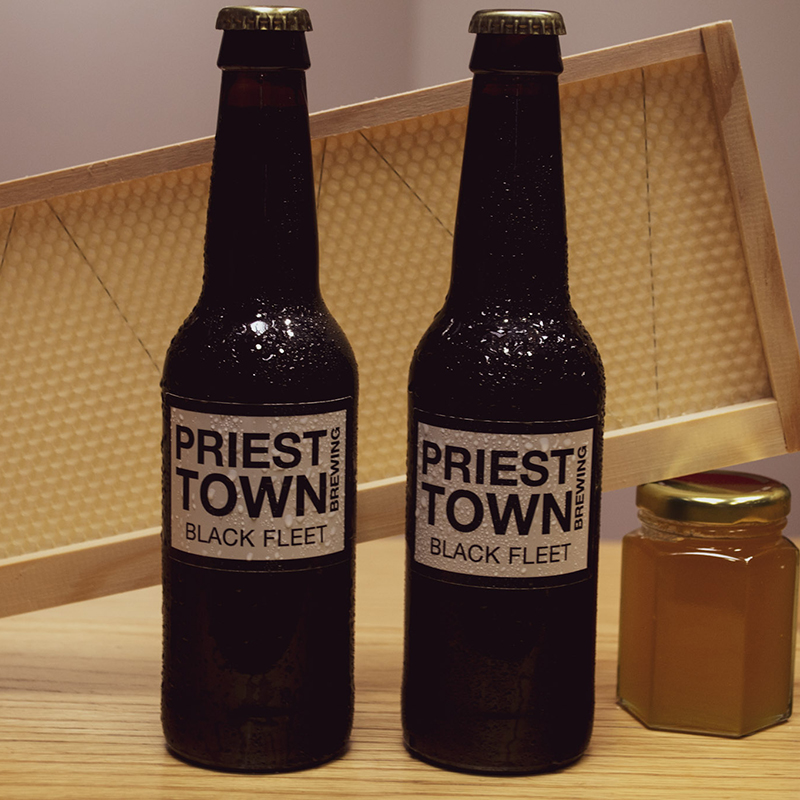 ST GEORGE'S SHOPPING CENTRE COLLABORATES WITH LOCAL BREWERY
St George's Shopping Centre have donated honey made from their bee colony to local brewery 'Priest Town Brewing', Preston's own craft beer and real ale 
microbrewery to create Black Fleet IPA.
Centre Manager, Andrew Stringer introduced bees to St George's in 2014 and has been supporting the local bee population since. From that initial addition of just two hives, the centre now boast an impressive 6 hives on the roof of the centre, so officially an apiary. Each hive when fully active during the warmer months can hold anywhere between 50,000 – 60,000 bees. The centre harvests the honey each year and as the number of hives has grown so has the amount of honey harvested.
Priest Town Brewing have a unique range of locally brewed beers all of which give a nod to Preston. Beers include, Ribbleton Red, Harris Stout, Livesey's Larger, Addison's Ale and PR2 IPA and each have a story to tell.
Ian Stezaker from Priest Town Brewing commented, 'We have created Black Fleet which is a small batch Black IPA, with the added ingredient of the Honey which came from the bee hives at St Georges shopping Centre supplied very generously from the centre team. Black Fleet is named for the mechanics and mill men of the early 1800's whose votes helped Henry Hunt, the great orator, become MP for Preston who campaigned for universal suffrage'.
Ryan Peacock, Operations Manager at St Georges commented, "I was keen to offer our surplus honey to a local small independent business so I chose Priest Town Brewing as they produce local beers which are all named according to Preston's history, such as the beer they have produced with our honey – Black Fleet, based on the story of Henry Hunt a former MP of Preston".